St Paul and The Hub- The Patron Saint of Spiritual Searcher's
Posted on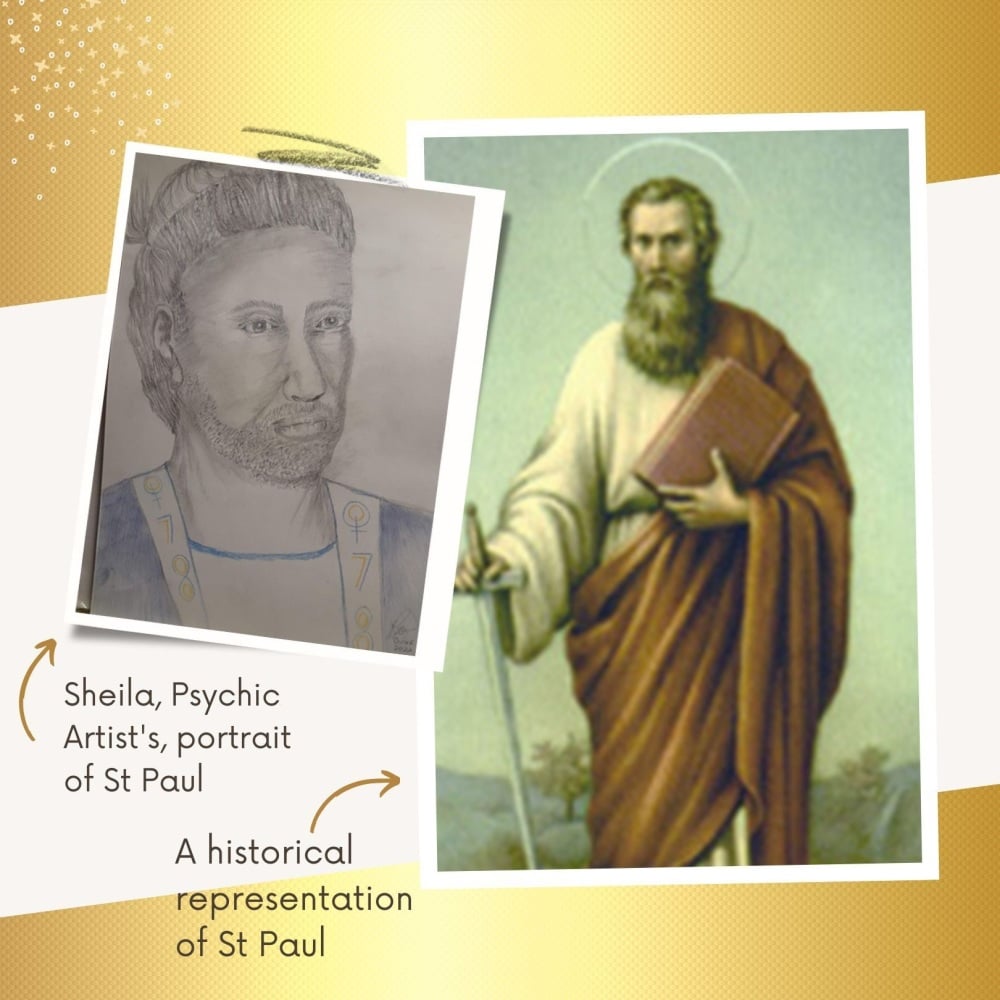 St Paul and The Hub- The Patron Saint of Spiritual Searcher's
In August of 2022, weeks before The Hub was due to open it's doors, our lovely Contributor, Sheila Moore, an incredibly connected and gifted Psychic Artist, contacted us to say she was visited by a male spirit who felt very high vibrational and who had a message for The Hub. Sheila drew the male spirit and then arranged to visit Debbie at home so that we could establish who this visitor was and what his involvement was in the hub.
Upon connecting with the Spirit, we established that it was Ascended Master, Saint Paul.
Debbie has worked with Jesus, Archangel Gabrielle, Archangel Michael, Mother Mary, Mother Theresa,Martin Luther King, Nelson Mandela, Albert Einstein, William Shakespeare, Princess Diana, and many more. And for the first time, she had the privilege to meet St Paul.
It was Debbie's guide, Jesus, who informed Debbie of who he was. Debbie recalled the moment the introduction was made and said "When I told Sheila, both her and I received goosebumps!"
St Paul proceeded to channel a message through debbie...
"I am Saint Paul. I will be leading the development of the hub and the Divine consciousness that will change the vibration of Mother Earth. I am the gatekeeper to this process but I will lead with Jesus and the Archangels to help infuse love and divine light into the souls of those who join and learn.
Just as I turned Christianity into a worldwide religion many years ago, it is time to turn Divine Consciousness into a Global collective intelligence, used on a day to day basis, as part of your own inner intelligence, connected to your inner divine light mission that connects directly to Global Source.
I will help compose writings, teachings, affirmations, discussions and allow your spirits to soar like eagles as you access places you never thought possible. This is all achievable through the power of faith and divine love. These will cover areas such as frequencies, dimensions, multidimensionality, ESP and vibrations.
For you all come from the same place, you are all awakening and responding to your calling. The hub is the catalyst to the Divine Consciousness Movement that takes us into the 21st Century. This is the unity of all countries and all nations under one Divine Light Source, Love.
I look forward to guarding, guiding and working with those who choose to connect with me."
Saint Paul, 30.08.2022
Upon analysis of the numerical date, Divine Decoder, Michael, established that the number vibrates at "Love", "on a deep level". He said, "It is about lots of learning and teaching which will empower people through the word of love."
Suffice to say that St Paul's support and guidance, along with Jesus and The Archangels, is a great honour for the Hub and we continue to connect with him regularly along with the other divine guides to continue the good work of the Hub.