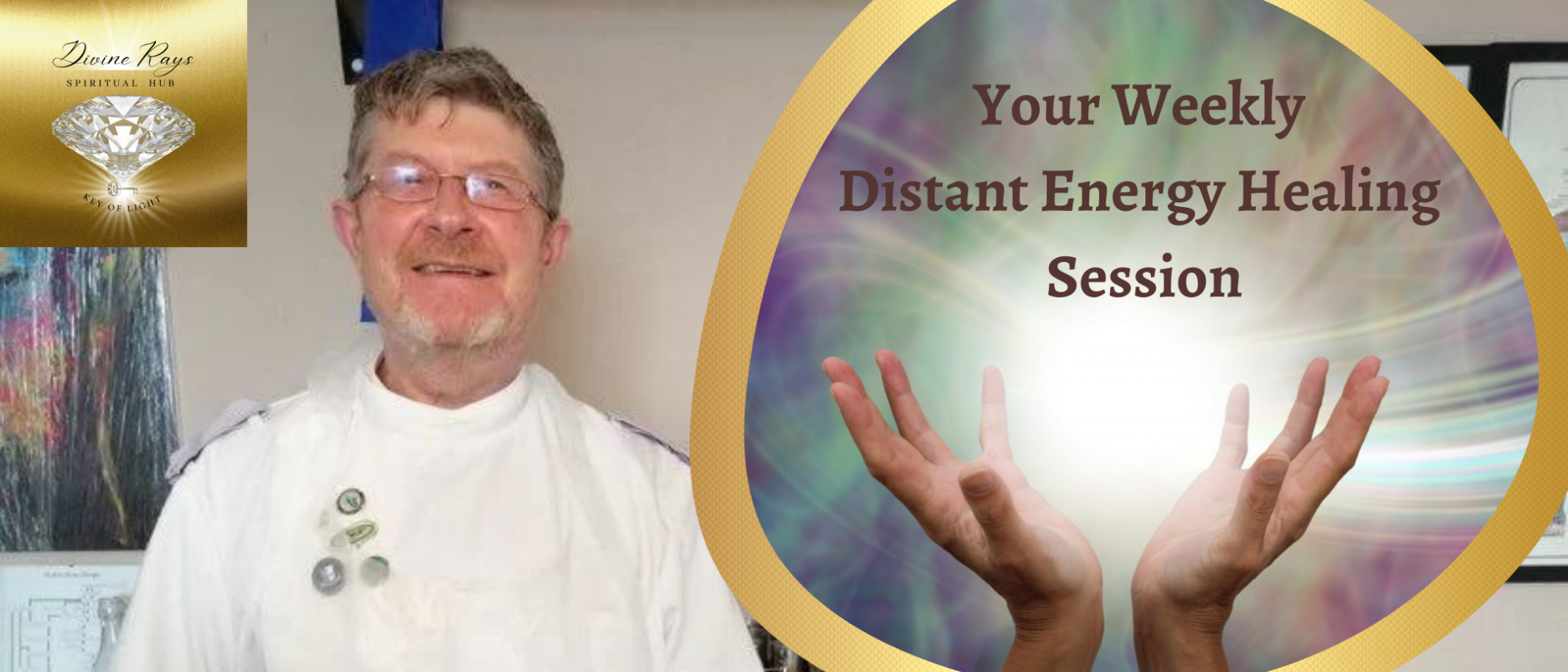 INTRODUCTION
Every month, our master healer teacher, Tony Boyce, will be sending Reiki distant healing to those of you who have placed your name in The Healing Book. The names you put forward in any given month will be added to a list for healing for the following months weekly sessions. They will receive 4-5 remote healing sessions per month (on Thursdays at 7pm- 7.30pm- event reminders will be posted in the hub for this) You can continue to add the same names each month if you would like to do so.
Please do state the Christian name, surname, town and brief details of the condition for each person you name (if you would like to) and these will allow Tony to direct the healing more intentionally. Absent/Distance Healing can also be sent for animals, groups of people, homes, businesses, buildings, the Earth etc, the only limit is your imagination.
For more Personal Hands-On/Distance Healing contact Tony on his mobile number – 07960753245 or email him at [email protected], as all bookings will be arranged through his practice. Tony runs a busy practice so he may not see all notifications or messages on The Healing Book group straight away. He will look in as regularly as possible, however and respond whenever he can. If you need to contact him with questions of importance or of a more personal nature relating to the healing, please do call or email him. Rachel, the groups host, will be checking in daily to review and respond to comments or questions of a more general healing nature.
WHAT IS DISTANT/REMOTE/ABSENT HEALING?
"We don't need to be touching or even in close proximity to any physical elements in the quantum field to affect or be affected by them. The physical body is organized patterns of energy and information, which is unified with everything in the quantum field" (Dr Joe Dispenza)
Distance Energy Healing is a form of healing energy "sent" across time and space, to the past, present or future, that is received and has a healing effect on the recipient. With this type of work, you do not have to be physically present with the healer to receive the healing.
Distance healing works equally as well as an "in-person" healing session. What quantum physics has revealed (at least in theory) is that time is not fixed, nor is it linear, only flowing in one direction. What science is also revealing about space or "distance" between objects is that they are actually not as separate as they may seem. Though we experience things as being separate from us this again is merely a perception of our limited belief in the illusion that time and space are fixed.
This type of healing is equally effective as an "in-person" healing, the session being conducted with the same focussed intent, love and compassion, because in alternative energy healing and holistic medicine therapies, we are working with the physical, emotional and mental aspects of an individual by accessing the individual's energy body. The energy body can be accessed easily from anywhere and at any time and does not require you to be physically present with the healer.
Important Information to Know
Sessions are not done through the internet
You can be anywhere on the planet
You must choose to receive Reiki Healing Energy - your 'intention' to receive this energy through the practitioner is what connects him to you and allows the energy to flow through to you (VERY IMPORTANT)
The energy flow to you increases with each session. The amount of energy you draw through the Practitioner increases and has a cumulative effect on your entire being (therefore multi-sessions recommended)
Distance Healing from this mental level resonates initially with the emotional/ mental bodies of the receiver therefore it may take minutes to hours for energy to filter down to the physical body. As your energy body shifts towards greater well-being, you will begin to feel lighter with increased mental clarity.
Tony, month to month, may alternate between the different types of distance healing he offers (Usui/Angelic) and the many methods of sending it.
The practitioner asks that in preparation for your healing that you will not be active but be comfortable, receptive and quiet. Healing is always more beneficial when the recipient is consciously receiving healing at the same time it is being sent. Even if that is not possible Reiki energy and its benefits will still come to you if active.
Remember that no guarantees can be made as to the extent of progress to be gained ... as Reiki works for your highest good. It is possible that rapid change and improvement can occur ... so be prepared.!
If this service is for someone else you need to have their permission: providing the practitioner with this information acknowledges that you are giving permission for the energy session to occur. It is important it you are requesting healing for another, that you have their permission. If you wish to send distance healing to someone unconsciously or as a gift and do not have or cannot receive permission, I can send the healing with the clear intent that it is to be accepted by free will only. Further, I ask, if the recipient still refuses the energy, it go instead towards healing the earth or to someone or something else you specify.
It is very important to understand that to achieve the VERY BEST results, Reiki is looked upon as a TREATMENT PLAN/PROCESS of Healing, Growing and adjustments in our Thinking…. all leading to our balance, transformation and greater inner peace and NOT JUDGED on individual/ single session results (although they too can be extremely powerful).
Absent/Distance Healing can also be sent for animals, groups of people, homes, businesses, buildings, the Earth, etc. (your mind is your only limitation., Repeat Healing = Healing that will automatically be sent by the universe to the recipient on days and times requested/ agreed upon.
SYMPTOMS OF HEALING (During/Post Treatment)
Most common are - deep sense of Relaxation; enhanced state of well-being; reduction in pain; energy flowing through you.
Very strong sensations or conversely "NOTHING" (Reiki can work very subtly but profoundly noting that energy flows into you no matter what symptoms felt, and results may not be immediate)
Sensation of heat to intense Heat
Sensation of Cold
Falling Asleep
Experiencing a deep meditative state
Comforting, protective feeling
A slight breeze/pressure changes
Feeling of rocking or motion
Coughing
Deep Breathing
Emotional responses.
Past Life or memory flashes/images
Focusing on current situations in a relaxed state
Profound moments of Awareness
Laughing
Various Colours, lights, shapes coming in and going out of vision
Body feeling light and floaty
Limbs feeling very heavy
Muscle and joint aches or throbbing
Involuntary movements ie. jerks, twitches, jumps, vibrations
Itchiness, tingling
Pins and Needles
Rumbling Stomach
Etc, etc
There is a 21-day cleansing cycle, this may be nothing, or conversely (if you have deep-seated 'stuff to clear) and notably on following day/s slight detoxification symptoms re body purging, or cold-like symptoms, or experiencing a release of old, unwanted, current emotions and thought patterns that have been suppressed or variable aches/discomfort. Realise that all problems take time to develop….. so be patient and supportive with yourself in the time it will take to heal. (A course of treatment is always recommended). Realise also that the extent/types of release will be unique to you, but always good for you.
*Please read section 'Healing Crisis = Energetic Purging' for more info.
HEALING CRISIS= ENERGETIC PURGING
* WHICH, PLEASE BE ASSURED, IS A GOOD THING AND A POSITIVE SIGN TO TRUE HEALING!!!
During and post-Healing - "very occasionally" the recipient feels some symptoms of energetic purging. The Body's goal is to maintain "Stasis" (equilibrium); even if there are some unhealthy parts, the body will try to maintain stasis around the 'part in question'
The Goal of Energetic Healing is to remove stagnant/stuck energy that no longer serves you and is holding you back and replace it with with dynamic cleansed energy. Energy gets "stuck" due to trauma, crisis, numbness, exhaustion, denial, facing something difficult, their thinking, emotions, pollution. etc. … Rather than dealing with it in the NOW', we stuff it down into energetic corners in us - as a body's protective mechanism…. BUT if too much stuffing and numbness become a habit or a default coping method Then = Trouble, pain, disease and a "Toxic" build-up Occurs.
This 'unhealthy' stasis maintained in our physical and energetic bodies must be reset with High Vibrational/Divine Energy. The body uses the Reiki energy, especially in the first/early sessions, to support its natural cleansing mechanisms, helping to clear a whole chunk of buried "toxin" from itself (A GOOD THING). The experience following then might be of a slight detoxification nature (which is normal and a sign of Healing taking place).
Any cleansing/healing done comes with a release in any one of the x4 levels or all simultaneously:-
Possible Purging Symptoms (which are not long lasting)
a) toxins and toxic energy are released
b) replaces old low energy with new high energy
c) adjusts each of your x3 Bodies, searching for a new balance/stasis point
d) a powerful shift occurs, moving "GUNK" out of the Body on all levels (physical, mental, emotional, energetic). In order to release - you have to feel something in return, which is "occasionally" unpleasant with uncomfortable symptoms, ie: crying, letting go of thoughts and feelings that held you back, fatigue, muscle aches, nausea, vomiting, diarrhea, depression, anxiety, picking fights with loved ones, cold, inflammation, feeling of heaviness, large emotional purge, the need to set a broken relationship straight, etc. The deeper and more intense the healing crisis, the more intense the healing!!!
Self-help
Drink More Water
Get Extra Rest
Meditate pre-Bed
Emphasis on a Good Diet
Keep a Journal ("Journalling") - notes of symptoms/changes in your wellbeing etc.
If very strong, then give it time before the next healing session- discuss with Tony your best options.
ALWAYS BE ASSURED-HEALING CAN DO NO HARM!!! ... ALWAYS WORKING WITH DIVINE LOVE, LIGHT AND PEACE FOR YOUR HIGHEST GOOD…. Tony is always available for any questions you may have.
Important to note
IT IS VERY IMPORTANT TO UNDERSTAND THAT TO ACHIEVE THE VERY BEST RESULTS REIKI IS LOOKED UPON AS A TREATMENT PLAN OR PROCESS OF HEALING, GROWING AND ADJUSTMENTS IN OUR THINKING ... AND NOT TO BE JUDGED ON SINGLE/SPARSE SESSION RESULTS (ALTHOUGH THESE CAN IN THEMSELVES BE POWERFUL HEALING SESSIONS)
Symptoms are unique - depending on your sensitivity, level of illness/ disease, your frame of mind before & during Healing session
HOW TO PREPARE YOURSELF FOR DISTANCE HEALING
Find a quiet (maybe darkened), restful location in which to lay down or sit comfortably for the duration of the healing session – just enjoy!! And notice that energy healing is completely safe
Turn off all technology or put on silent. Ensure no mobiles/ipads are in the same room with you
Chunky jewellery should be removed, as well as spectacles, watches and hearing aids
Wear earplugs if needed to eradicate all external distractions completely
Place a small blanket over your body during treatment incase you get cold
Loosen any tight clothing
It is advisable to get settled in your position and to begin to relax for 5-15 minutes before the healing session is due to begin
Put on some light, low noise relaxation/nature sounds music in the background
Seek to become as meditative and perceptive as possible:
Turn your attention inwards:
Concentrate on deep relaxed breathing (eg inhale nose x4 seconds, hold breath x2 seconds, exhale mouth x4 seconds) plus the action of your breathing
Close your eyes
Set the intention/thought (very important) that you WILL receive the most powerful healing eg visualise me sending white or purple healing light to you
Hold your favourite crystal in your left hand
CONTRAINDICATIONS TO RECEIVING REIKI
There are not many! But please be aware of those outlined below and if they apply to you, to get approval from your Doctor before accepting Reiki energy.
Pacemakers – as healing energy is an energy, it has been known to speed up clocks and machinery and could therefore 'possibly' have an effect on pacemakers
Pregnancy – during the first trimester
Hearing aids – can cause loud howling sound or feedback in a hearing aid
Diabetes Mellitus/taking insulin injections (insulin levels having to be checked daily)
DISCLAIMERS
Reiki is a natural hands-on and distance healing method. The purpose of Reiki is for healing to occur in the spiritual and many other bodies so that healing can take place in the physical body. Reiki is also used for stress reduction and relaxation. Reiki and any other energy modalities promoted here are meant to be complementary to healthcare practices. They are not meant as a substitute for proper medical diagnosis and treatment provided by licensed healthcare professionals. It is very strongly recommended that you contact your physician or healthcare specialist with any concerns about your health and to notify them about your use of other wellness' practices.
Practitioners of Reiki and other energy modalities do not diagnose conditions, nor do we perform medical treatments, prescribe substances, or intertere with the treatment of a licensed medical professional.
The practitioner importantly notes that all recipients understand that because the word 'Healing' is mentioned that NO promises as to cures, healing or condition improvements are given. Reiki 'may' act as an energetic balancing therapy, encourage beneficial change and will always work for the recipient's highest good.
Privacy Disclaimer
Please note that by placing your name in The Healing Book, you offer your name voluntarily. We will share your name, the town and condition you named, with Tony Boyce of The Haydn-Mary Practice, for him to send the distant healing your way, but no other personal details will be shared with him. This is all he requires. By placing your name in The Healing Book, you authorise us to share the above details only with Tony Boyce.
...AND FINALLY!..
My journey into spirituality and energy began in 2004 where over a period of a year I had so many "coincidences" happen that I couldn't explain, which all lead me to Usui Shiki Reiki. My coincidental journey has continued in many different parts of my life and I am honoured to be able to sense guidance from what I now feel is divine synchronicity. I have journalled all of these synchronicities and I would be happy to receive blogs on any of 'YOUR' amazing and magical synchronicities as well so that I can add them to a separate section in my journal…(please send to me via my email address [email protected]), thank you!
Love, light and blessings to all,
Namaste
Tony xxx
P.S I can now reveal, excitedly, that 'on occasion' some other of the hub's key contributors, who are also healers, will at times be sending healing too, alongside myself on The Healing Book's designated sessions. This will, I'm sure, enhance the healings potential to all the named recipients in The Healing Book. My gratitude to you all and looking forward to working with you. Namaste xxx